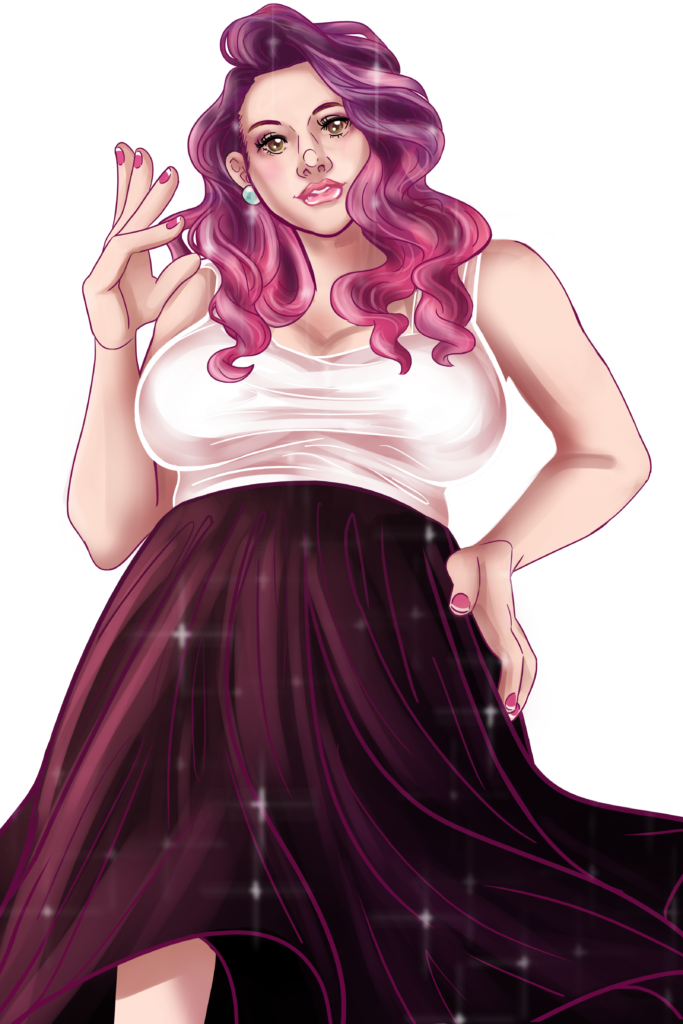 Last weekend I reached 700 followers as @mightytinygiant on Twitter, and have decided to celebrate by sharing two things that are important to me. After nearly half a year on hiatus to heal from depression, it's good to be back. I'm grateful for all the support I've received and the messages urging me to take care of myself. The writer is worth more than what they write.
The first thing I'm thrilled to share is this gorgeous portrait of me by the talented and friendly DTV_art. I have admired her work for years, since I first laid eyes on her Tumblr treasure trove of lovely queer Giantess girlfriends and sizeshifter boyfriends and so many gorgeous Giant/tiny moments. Trust me, she is so incredibly skilled and talented and awesome and her work is queer-friendly and romantic AF. I am humbled by the way she took my photograph and translated me into my most femme-tastic witchy woman sizeshifter self. As of this writing, she is still open for commissions!
The second celebratory tidbit I'm sharing with you lovely folks today is one of my favorite pieces of writing, first shared on Tumblr, January 12, 2016. I was struggling then with depression and size dysmorphia, just like I have been this year. I have made huge strides this summer with therapy—thank the Gods for sex-positive, kink-positive, polyam-friendly therapy—and for insurance to help me afford it. More people should have access to that kind of healing.
That support has given me the hope I needed to delve into my feelings about my body and my writing. I've been revisiting what I love most about what I've written. I've been working on befriending my body and accepting that the way she feels large or small may actually be healthy for me, even if it's not a thing people commonly feel. Commissioning a portrait of myself as a new avatar is part of that work, and I'm grateful for DTV working with me to get it right.
It's okay to feel small. It's okay to feel large. It's okay to take up whatever space you need to take up, in this world. I need this reminder now, as much as I ever have. Maybe you do, too.
Sometimes when you grow, you're scared of ruining your clothes or destroying your favorite pair of shoes. Sometimes you're just scared of how they constrict you, how a necklace could choke you or a beloved coat could trap you like a straight-jacket. But not always.
Sometimes when you grow, shredding through your layers of fabric and fashion feels better than breaking a chain with your bare hands. You're no longer made for the world of thrift shop jeans or business casual blouses. You can stop worrying if it looks wrong. It belongs to the person you used to be when you still apologized for taking up space.
Small wonder, then, when you stretch your shoulders just to feel the seams tear. When you breathe deeply so the hooks on your bra unbend themselves, unable to hold the glory of your breasts as they grow in size, weight, and consequence. You roll your hips and savor the shredding sound of that pencil skirt you used to love, which has been too small for far too long. It slips to the ground like a memory, followed quickly by the remains of your panties. The lace surrendered by unknitting itself. It wasn't up to the task of containing the beauty of your other massive assets.
Tearing through the leather on your high heels seems almost obscene, but deep down you offer it like a sacrifice. Your bare feet fill the ground with presence. The crown of your head lifts above the crowd where you walked alone in your smallness.
You feel your own beauty as you never have before. With awe and gratitude and no regrets. You see the world differently and know yourself fully as you grow in all directions, pushing outward, but especially upward.
You have every right to stand tall no matter your size. Breathe deeply in the body that bears your heart, and never apologize again.