(This blog post and story include discussion and themes of noncon/rape, revenge, and humiliation.) 
I am fiercely proud of this story. I am proud of myself for writing it, and for being brave enough to post it. "A Scarlet R" is far darker than my usual stories, and helped me process some old pain and fury.
It has taken me a year and seven months to publish it because I told myself I wanted art for the story, and I recorded audio as well (that will be released at a later date), but in truth I just did not have it in me to face these demons again with all the struggle of the pandemic. I have compassion for myself on that, and I'm glad I was able to keep going by writing other stories, and by finding ways to better understand how sexuality works under stress.
I'm pleased to say that I've turned a corner in life stress for a number of reasons, and I feel ready to release this now. In more ways than one.
On the merits of anger
Once upon a time, when I was a college student and young witch going to parties at places like the one that inspired this story's setting, I used to believe anger had no place in my life. Anger was terrifying, anger was destructive. And anger comes with a far higher social cost for women than for men.
In recent years, I have learned the hard way that anger denied can become depression—and that anger harnessed for a cause can also be vital fuel for change.
Anger is usually at least one of two things: a protection, or a protest. The fury I brought to bear on this story is rooted in both of those forces.
To quote Andrea Gibson:
Every feminist who has ever
taken the high road will tell you
the high road gets backed up
and sometimes you have to
take a detour directly through
the heart of uncensored rage.
Commissioned artwork
I am so very excited to release the artwork I commissioned from Hollewdz, a talented artist from the #SizeTwitter community who creates gorgeous sexy size play artwork. I know this is a departure from her usual themes, and I appreciate her understanding, attention to detail, and patience with me. Be sure to click into the images for larger versions!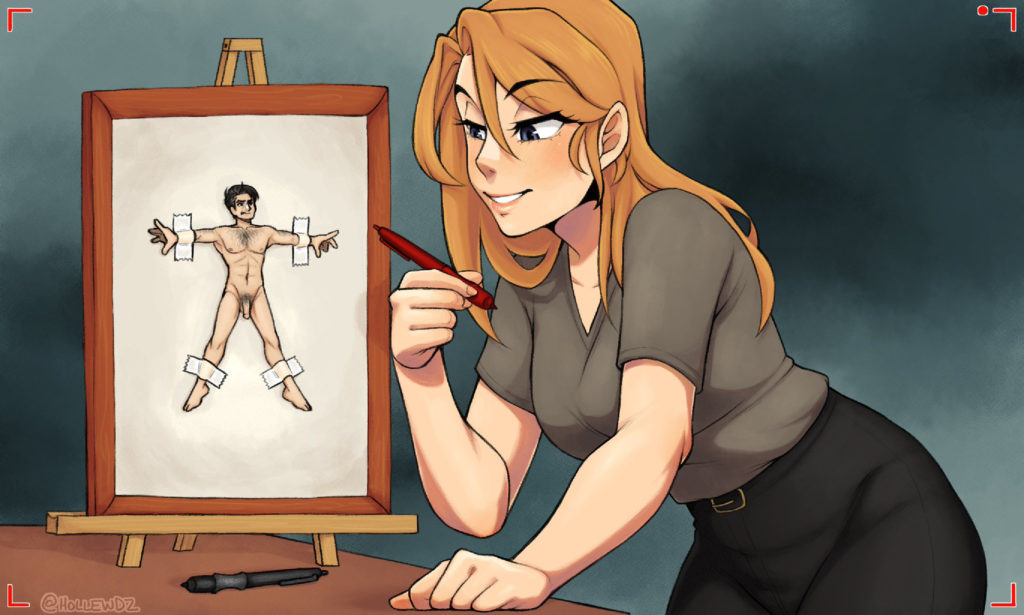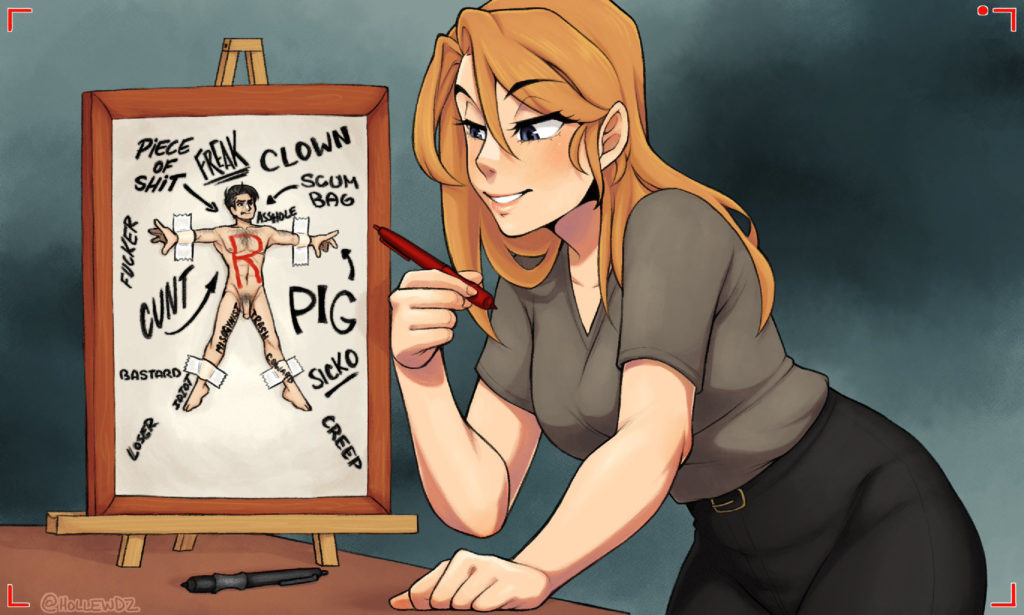 For the record, she worked quickly and efficiently and was done by last February, and the delay was due to my own struggles to revisit the intense themes of this story (plus the stress of the ice storm that shut down Texas that month). I'm excited to finally be able to share her amazing work! Please commission her the next time her comms are open, and support her on Patreon!
Feedback & community response
"A Scarlet R" placed in the following categories in the SizeRiot Cruel January 2020 contest, hosted by the hardworking and talented Aborigen-gts​:
"Had a striking opening line" – 1st place
"Got you wrapped up in threatening circumstances" –  3-way tie for 1st place
"Featured 'humiliation' the best" –  tied for 2nd place
"Featured 'psychological cruelty' the best"– 5th place
I appreciate the feedback I received for this story. As always, I'm deeply grateful to my beta readers and everyone who read my work and reviewed it.
Here's what the readers had to say:
"One of my favorite stories. I loved the Shakespeare touches, of course. It didn't really feel like a cruel story, as I related to the female characters, and the righteousness of their actions."

"A horrifying catharsis. Like avenging banshees… The group dynamic of women exacting justice was delicious."

"The opening line is especially striking… Evocative, as brilliant as the eponymous scarlet. It's the starting march to a cavalcade of righteous shaming… In terms of the cruelty themes, I have to say this was a knock out of the park in terms of "humiliation" and "psychological cruelty"… A very good reversal of power there, and one easy to enjoy vicariously."

"Your language is so vivid and descriptive. This is a true example of poetic justice. That closing line was so powerful… Simply a fantastic story."

"Holy shit. I'm shaking. I need a cigarette and I don't smoke… I can't say enough good things about this piece. I think of anything I've ever read in the sizeplay community, this is the highest art I've ever seen."
Consent and Support for Survivors
Consent: Beyond the realm of fantasy, I do not condone sex acts without consent. Erotic fantasy play between two individuals in reality in person and online should always include negotiation, fully informed consent, and protections such as content tags, safewords, aftercare, and emergency planning. For more sex resources about safe kink and erotic fantasy play, I recommend The New Bottoming Book and The New Topping Book, both by Dossie Eastman and Janet Hardy. A great resource for exploring consent is the Consent Wizard on Instagram, author of the article Should Enthusiasm Be a Requirement for Sex? 
Noncon fantasy: Nonconsensual fantasies are common among people of all genders, and if your body responds to these fantasies, you are not alone. Having fantasies where sex acts are forced on you or others does not mean you want to act on them in real life, or that you do not understand trauma or lack compassion for survivors of violence. It means your body responds to a fantasy, and you get to decide what you want to do with that information. We are not our thoughts, and we are not our fantasies. Some survivors find healing and liberation through exploration of noncon fantasies, and that's okay. Some never want to interact with these themes again, and that's okay too. As long as every real person involved in your fantasy play (such as you reading my story online) is a fully informed consenting adult, then the act you are participating in is inherently consensual. 
Seeking help: If you or anyone you know has experienced sexual harassment, trauma, abuse, or assault, I strongly suggest seeking advice and counseling from trained professionals. Some organizations that offer free resources are: RAINN (Rape, Abuse, and Incest National Network) hotline at 800-656-HOPE; National Sexual Violence Resource Center to search for local help; Trans Lifeline Crisis Hotline by and for the transgender community at 877-565-8860; National Domestic Violence Hotline at 1−800−799−7233 or TTY 1−800−787−3224.
Read the story
AUDIO VERSION: Coming soon, check back for a 20-minute author-read version
TEXT VERSION: Read the full story behind the cut.