"Woman, in Ecstasy" follows the story of a woman on a date with her boyfriend at a museum of sex. He convinces her to volunteer as part of a kinky art installation, where she grows, shrinks, and becomes a horny slut at the mercy of strangers—one of whom has eyes on her boyfriend. Read Chapter 1 and Chapter 2.
In Chapter 3, Noelle grows in more ways than one as she lets go of her stress and focuses on what matters most, like doing whatever it takes to be fucked to climax.
I'll be unveiling this story in five chapters, each one lewder than the last. I'm proud to be able to offer author-read audio for each installment. This is a way to ensure increased accessibility for members of the kink community who use screen readers, and adds some extra sexiness for my fellow audiophiles.
Scroll to the story content section if you want to jump right to the story.
Topic & timing
This section grew (heh) into its own kinky blog post, which you can read in full here: Embracing My Inner Size Slut.
(Discussion of agency, bodily autonomy; nonconsensual themes in size play, hypnosis, mind control and bimbofication; mentions of trauma and resources for survivors of sexual assault.)
Why am I writing a story about a woman losing her agency? Why am I releasing it right now?
The short answer is that I began writing this back in April, and it's done, and I want to share it.
The medium answer? My body responds to fantasies about giving up control, especially when I'm stressed. I'm far from alone in this. Many people have fantasies about someone forcing them to do the sexy things they find most arousing. My first kink-informed therapist told me that she believed "it's a way to give ourselves permission to explore pleasures that society tells us are taboo."
In recent months, I've been stressing a lot about bodily autonomy. Sometimes we want to avoid stressful topics when we explore erotic things. Other times, it feels really good to use stressful topics in erotic ways, to process our feelings and reclaim a sense of agency.
True, it's ironic I'm reaffirming my agency by writing a story eroticizing a loss of control and bodily autonomy… but it's still my choice. I wrote this story on my terms, to explore these themes in ways that feel really good to me. (Literally, each time I had to make a decision about where to take the story, I chose the option that turned my body on the most.) I'm releasing the story now in the hopes that if someone else out there needs to process stress in this way too, it's here.
I've written about this elsewhere, but it's worth repeating what I learned from her:
Having fantasies where sex acts are forced on you or others does not mean you want to act on them in real life, or that you do not understand trauma or lack compassion for survivors of violence. It means your body responds to a fantasy, and you get to decide what you want to do with that information. We are not our thoughts, and we are not our fantasies. Some survivors find healing and liberation through exploration of noncon fantasies, and that's okay. Some never want to interact with these themes again, and that's okay too. As long as every real person involved in your fantasy play (such as you reading my story online) is a fully informed consenting adult, then the act you are participating in is inherently consensual.
A fantasy that I have for myself, or that I share with my consenting partner, is inherently consensual. That's true even if the topic of the fantasy is pretending that I'm being forced against my will. If I fantasize that a Giant picks me up and shoves me in her panties without asking first, I am consenting to my own fantasy. If I explain my fantasy and ask my partner to roleplay that with me and they say yes, they are consenting to my fantasy. All the real people involved are able to say no and stop the fantasy at any point.
For the record. Beyond the realm of fantasy, I do not condone sex acts without consent. Erotic fantasy play between two individuals in reality in person and online should always include negotiation, fully informed consent, and protections such as content tags, safewords, aftercare, and emergency planning.
If you or anyone you know has experienced sexual harassment, trauma, abuse, or assault, I strongly suggest seeking advice and counseling from trained professionals. These are usually free and confidential. See my blog post for a full list of resources for survivors.
We really need to take care of each other and ourselves right now. Be gentle with yourself. Set boundaries. Figure out how your body in particular asks you for different kinds of rest, like mental downtime or peace and quiet. Find ways to listen. If your brain and body don't feel good about reading this story right now—if "all parts of yourself don't consent to exploring this today" like my EMDR therapist would put it—then it's okay to say no. You can come back later and see if your brain and body give you a different answer on a different day. It's okay if it stays a no.
The most important thing is to listen to your body and decide what's right for you. After all, no matter how much we fantasize otherwise, you're the only one who can decide what's right for you.
Artwork & shout-outs
I'm thrilled and deeply grateful to @pseudo_size for creating this GORGEOUS and sexy render art of one of my favorite moments in the story.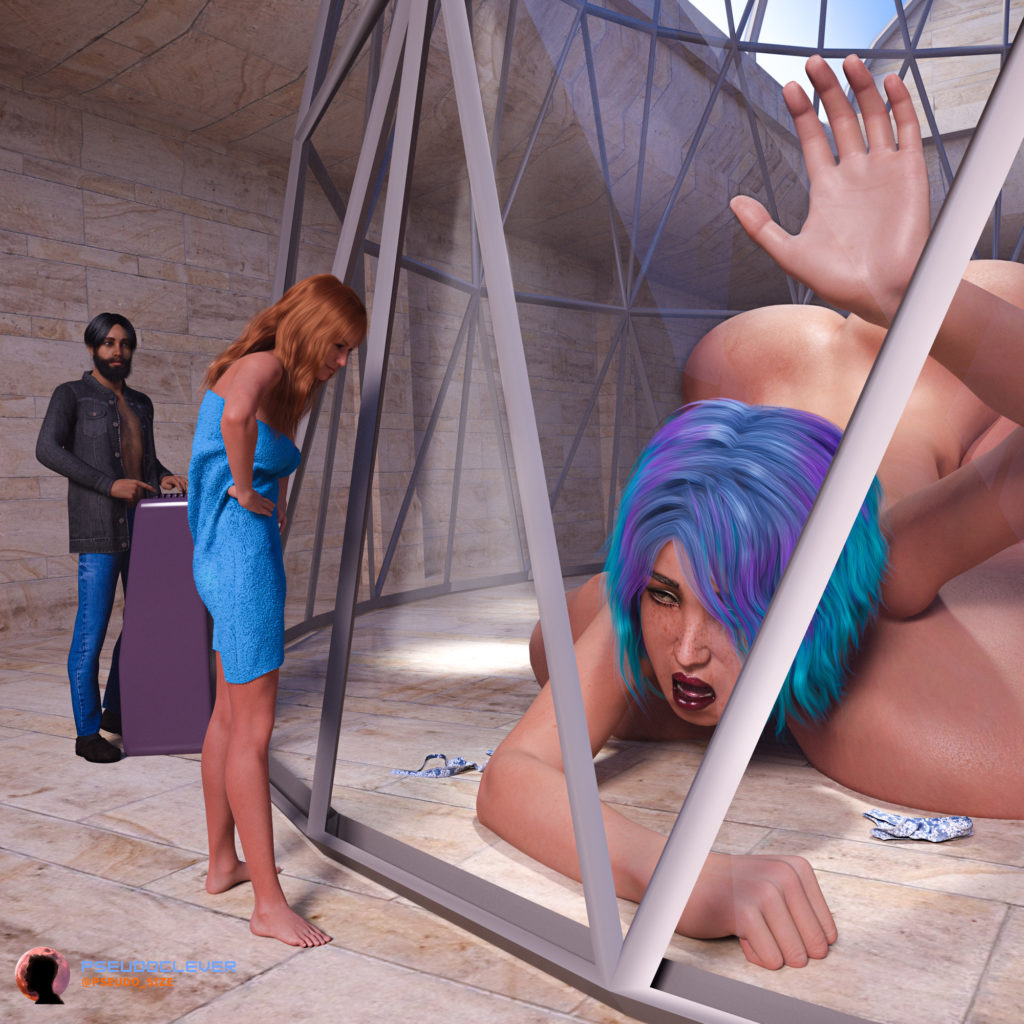 It's no exaggeration to say that this story would not be what it is without pseudo and his help. His skill and empathy in beta reading, his insight into character development, story arcs, strengths and vulnerabilities, all of it helped me tell the story I was trying to tell.
Please go check out his art and writing, including a new story he began sharing for Pride Month, Holding Space. It's one of the sexiest stories I've ever read in the size kink community.
Story inspirations
Inspiration for this story comes partly from a place that's been on my bucket list for years, The Vagina Museum. It's hardly the only museum of sex, but it is the world's first bricks-and-mortar museum "dedicated to the gynaecological anatomy." Learn how to support their work in my introduction to Chapter 1 (and discover why I've chosen to depict nonprofits in this way).
Support the author
Money is tight right now. I have twelve works of fiction in progress, ranging from wholesome to kinky as fuck. I'd like to continue releasing them here for free.
If you enjoy this story and want to see/hear more like it, the best way to do that is to support me financially. (The second best way is to boost the signal on my stories and encourage your friends to support me, too.) Thanks, y'all!
Story content
Tagging is the only way I know for people online to be able to opt in or out of a sexual experience with fully informed consent. I welcome help in tagging—please let me know when I have missed anything important.
Tags for the story overall will include:
F/m/f, f/M/F, f/F – (shrinking, growth, public play, exhibitionism, breast & ass expansion, humiliation, objectification, dubcon/noncon, mind control, intelligence play/bimbofication, hypnosis, begging, orgasm denial, jealousy, cuckolding, BDSM, voyeurism, masturbation, entrapment, claustrophobia mention, licking, sucking on fingers and feet, kisses, insertion, cunnilingus, penetration, and "bigger on the inside" magic for fucking tinies.)
Tags for this chapter in particular include:
F/m/f, f/M/F – (shrinking, growth, public play, exhibitionism, breast & ass expansion, humiliation, objectification, dubcon/noncon, mind control, intelligence play/bimbofication, begging, orgasm denial, cuckolding, BDSM, entrapment, claustrophobia mention, and "bigger on the inside" magic for fucking tinies.)
Read the story
AUDIO VERSION: Listen to an 18-minute author-read version of the story here.
I recorded this audio in a single take, and this is my first time editing my own audio, so please go easy on me. If you'd like to help me buy a bonafide mic and a pop filter to make the sound quality better for future recordings, I'd welcome donations of any size.
TEXT VERSION: Read the text version of the story behind the cut.