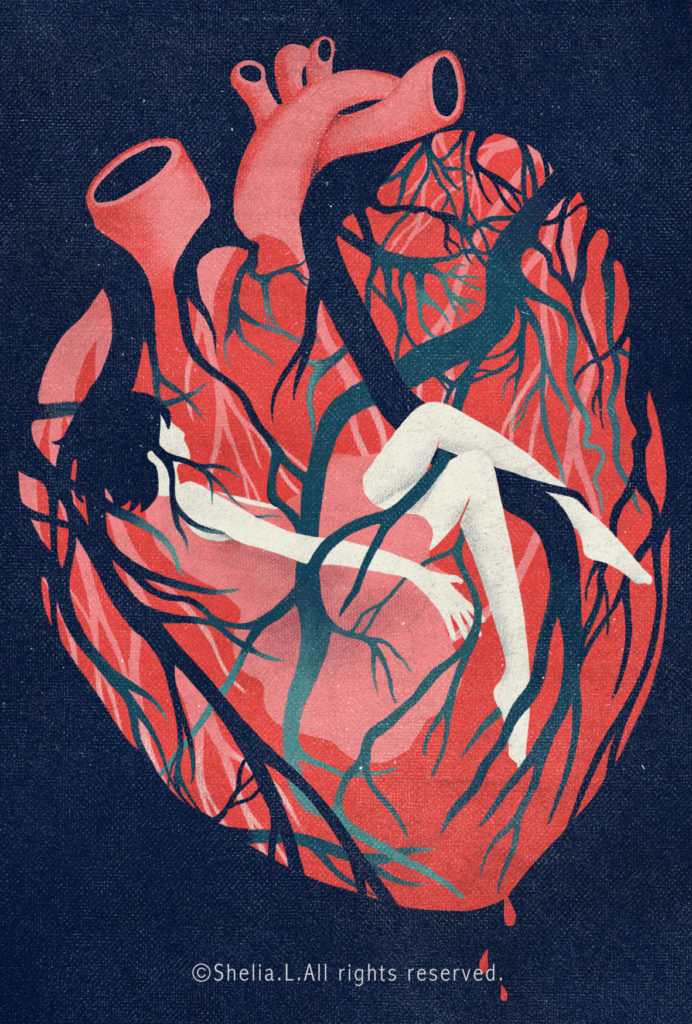 Heart, by Shelia Liu. [Shared under a Creative Commons Attribution, NonCommercial, NoDerivatives 4.0 License.]
Content warnings: some NSFW artwork and language, discussion of body dysmorphic disorder, gender dysphoria, grief, gun violence, depression, neurodivergence, kink, microphilia, macrophilia, and shame
See my Size Dysmorphia / Size Euphoria page for a shorter introduction to these concepts and updated information after my 2021 diagnosis of Alice in Wonderland Syndrome.
Introduction: arguments with my body
It won't surprise you that I'm sitting at a table in a chair with my feet on the ground, while my hands type comfortably on a laptop. You—and most of the people who know and love me—might be intrigued to know that my senses also tell me I can lift my hand and touch the ceiling with no trouble, because it's dangerously close to brushing my head.
Would you like me to open the front door, fifteen feet away? It's within easy reach. Or, at least, that's the argument my body makes.
My senses agree I'm sitting at the table in the usual way, but they also feed me contradictory information about the walls seeming to close in around me, about how there's no space for my knees and legs between the table and the wall, no way this chair should be able to support my weight, and no way that my fingers could possibly type on a laptop that feels like a toy for a doll.
If I close my eyes, the sensation intensifies and logic takes a backseat to a kinesthetic awareness of overwhelming size. Some days I feel overwhelming smallness instead, as if everything is huge and heavy and beyond my isolated reach.
Luckily for me, if I open my eyes again, I'm able to use the visual information to combat the strange, contradictory physical information. I concentrate on the evidence of my eyes and wage a war against my kinesthetic senses—the same kind of battle I've been fighting quietly since childhood.
In some circles, this experience is known as size dysmorphia: a sense that your body's size feels larger or smaller than you know it to be.
I know that I stand five feet, two inches tall. I know that my body does not change in size. And yet, it's as if some ancient part of my brain and body refuse to completely accept this data.
Sometimes it happens without warning, like a radio shifting channels and offering music and static from two different stations. Sometimes I go for days without noticing anything unusual, my broadcast uninterrupted on a steady playlist of "five-foot-two" with no interruptions.
When I feel a sizeshift coming on, sometimes I groan inwardly and grit my teeth. Other times, I try to induce the feeling myself, just for the sheer joy and arousal and exhilaration of it. Few sensations are as empowering as a sense that you stand twice as tall as everyone around you.
Until about three years ago, I refused to tell anyone.
I assumed I would take the secret to my grave.