"Woman, in Ecstasy" follows the story of a woman on a date with her boyfriend at a museum of sex. He convinces her to volunteer as part of a kinky art installation, where she grows, shrinks, and becomes a horny slut at the mercy of strangers—one of whom has eyes on her boyfriend. Read Chapter 1 here.
In Chapter 2, Noelle learns the hard way about arousal, inhibitions, and the importance of asking for what you want during sex. Or in her case, during sexually explicit interactive art.
I'll be unveiling this story in five chapters, each one lewder than the last. I'm proud to be able to offer author-read audio for each installment. This is a way to ensure increased accessibility for members of the kink community who use screen readers, and adds some extra sexiness for my fellow audiophiles.
Scroll to the story content section if you want to jump right to the story.
Artwork & shout-outs
I'm thrilled and deeply grateful to @pseudo_size for creating this GORGEOUS and sexy render art of one of my favorite moments in the story.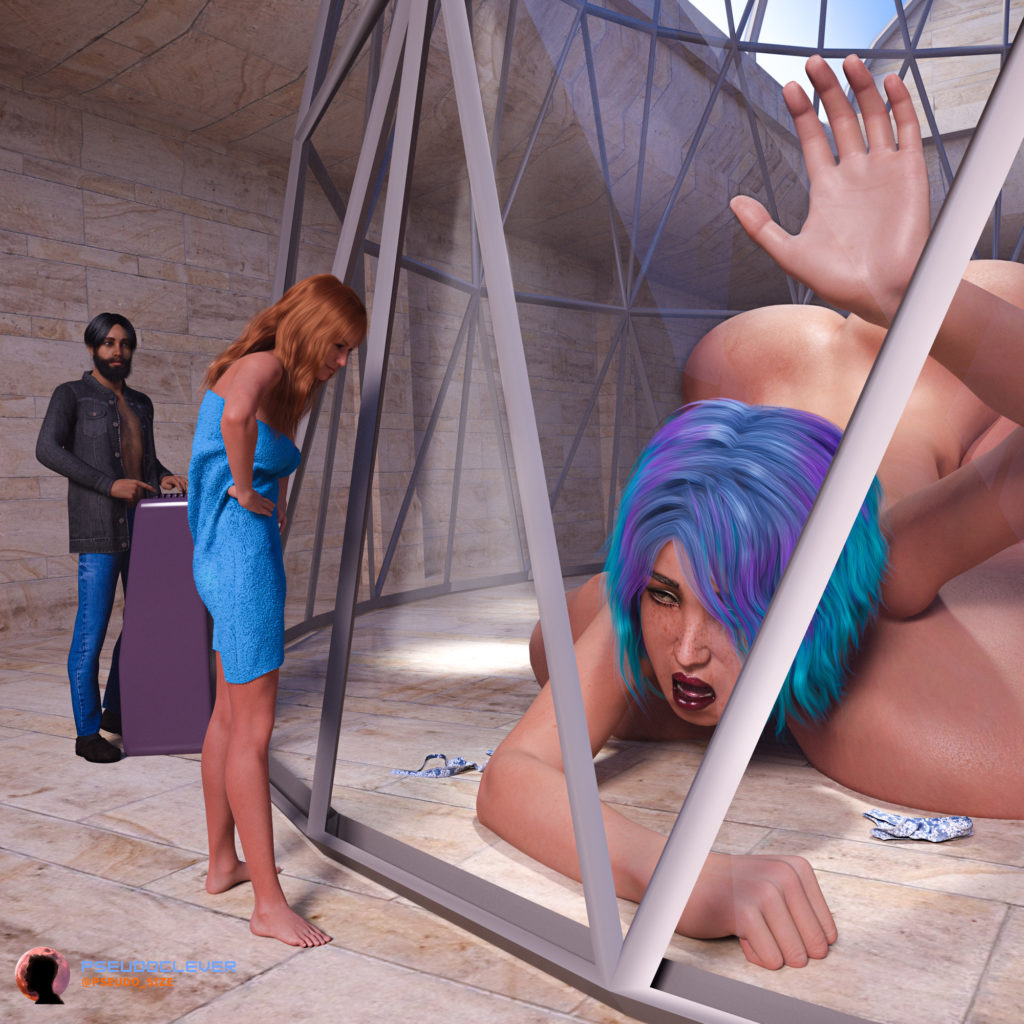 It's no exaggeration to say that this story would not be what it is without pseudo and his help. His skill and empathy in beta reading, his insight into character development, story arcs, strengths and vulnerabilities, all of it helped me tell the story I was trying to tell.
Please go check out his art and writing, including a new story he began sharing for Pride Month, Holding Space. It's one of the sexiest stories I've ever read in the size kink community.
Story inspirations
Inspiration for this story comes partly from a place that's been on my bucket list for years, The Vagina Museum. It's hardly the only museum of sex, but it is the world's first bricks-and-mortar museum "dedicated to the gynaecological anatomy." Learn how to support their work in my introduction to Chapter 1 (and discover why I've chosen to depict nonprofits in this way).
Support the author
Money is tight right now. I have twelve works of fiction in progress, ranging from wholesome to kinky as fuck. I'd like to continue releasing them here for free.
If you enjoy this story and want to see/hear more like it, the best way to do that is to support me financially. (The second best way is to boost the signal on my stories and encourage your friends to support me, too.) Thanks, y'all!
Story content
Tagging is the only way I know for people online to be able to opt in or out of a sexual experience with fully informed consent. I welcome help in tagging—please let me know when I have missed anything important.
Tags for the story overall will include:
F/m/f, f/M/F, f/F – (shrinking, growth, public play, exhibitionism, breast & ass expansion, humiliation, objectification, dubcon/noncon, mind control, intelligence play/bimbofication, hypnosis, begging, orgasm denial, jealousy, cuckolding, BDSM, voyeurism, masturbation, entrapment, claustrophobia mention, licking, sucking on fingers and feet, kisses, insertion, cunnilingus, penetration, and "bigger on the inside" magic for fucking tinies.)
Tags for this chapter in particular include:
F/m/f – (growth, public play, exhibitionism, breast & ass expansion, objectification, dubcon/noncon, mind control, intelligence play/bimbofication, begging, jealousy, cuckolding, BDSM)
Read the story
AUDIO VERSION: Listen to a 19-minute author-read version of the story here.
TEXT VERSION: Read the text version of the story behind the cut.