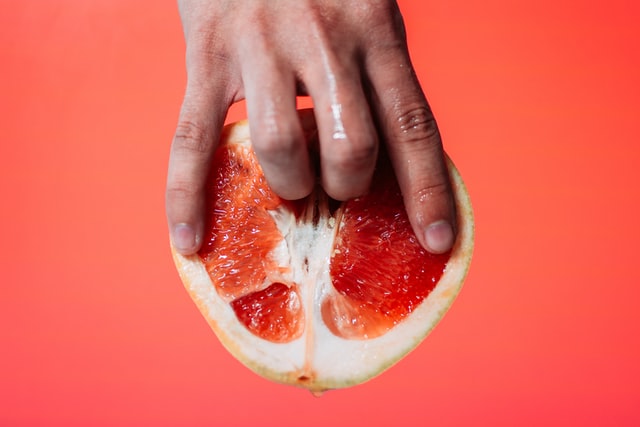 Kinky Scribble installment seven! If you're here for the sexy times, skip to the "read more." Otherwise, continue below for an update on my inspiration for this story, why this is my first scribble in six months, and my hypothesis for why the sexy words finally, finally came. (Pun intended.)
Update! This story now has author-read audio. Enjoy~
Inspiration & Responsive vs Spontaneous Sexual Desire
On the surface, my inspiration for this story would seem to originate with this tweet and this tweet. If you ask to go deeper (please, deeper, harder) then I will share with you that the inspiration came from one of my first roleplay sessions with the talented @pseudo_size, a fellow polyamorous kink writer who has brought much inspiration to my life this year. You can read more of his work here, including a fantastic dark noncon commission he did for me in July. This weekend when I found myself fantasizing about two of the characters from that first February session, I messaged him privately to explore the concept, and he was very obliging with his response. It left me thirsty for more, in a way I haven't felt in a long time.
(Content warning for discussion of mental health.) My regular readers know that I've been struggling with trauma and a decreased desire for sex a lot this year. I won't go into that in detail here, but I have learned a lot about the concept of sexual brakes and sexual accelerators, and how arousal works in relation to stress and mental health. My blog post Sexual Brakes, Trauma, & Kink in the Burning 20's explores how I have used size kink in stress cycle exercises to release stress, fight depression, and find my way back to arousal.
Even with all that hard work and experimentation, in the last six months I have found my own turn-ons to be rooted firmly in responsive desire—when your brain only gets turned on when something sexy is already happening—and in my case, it's mostly in contexts with people I trust a great deal, like my partners. Pre-pandemic, finding my turn-on for writing erotica was as easy as turning a faucet, most days. Spontaneous and fun. But in the last half year, the faucet has required some creative encouragement to function at all. For example, trying to find my turn-on for a sex scene in SizeRiot's HistoricalJuly20 contest required patience, tremendous effort, and a lot of trial and error. It was a mental puzzle, not a physical inspiration.
So how the hell did I wake up Saturday morning spontaneously fantasizing about sex? After so long, how on earth did I finally feel inspired enough to dash off 1600 words of sensually charged erotica? With no deadline, no contest, no context of a loving partner hoping for my next kiss or my next paragraph?
I've only experienced spontaneous sexual desire a few times during the pandemic, and each time came directly after some stressor in my life resolved itself. The work crisis ended with a lucky break. The estranged family member answered my messages. I finally asked for help about something that had me burned out. Within 12-24 hours, each time I found myself experiencing wave after wave of spontaneous arousal. It was as if my body took a deep breath and said, "FINALLY! It's safe enough for sexy times. Release the arousal!" 
A door in my mind opened and erotica came flooding out. 
When I shared the story with Pseudo afterward, I blushed hard at his response. "You really turned a quick few sentences about this concept from me into one of the sexiest pieces of size writing I've ever read."
Kinky Scribble recipe & reasoning
A Kinky Scribble is a flash-fiction writing exercise idea I've been developing since January 2020, as a tool to break past my anxieties as a writer. Read my past Kinky Scribbles and search the #KinkyScribble tag itself on Twitter. 
The strategy is to produce creative content in a short amount of time, give it minimal edits, and then release it into the wild for others to enjoy. My goals are to practice my fiction-writing skills, to produce more content while still reconnecting with the parts of writing I enjoy most, and to re-calibrate my sense of when something is "done enough" to share.
Feel free to join in! Don't feel obliged to follow my same format of listing my word count and writing/editing times. It's really useful to me to re-calibrate my time estimates, and to prove to myself that I can make good content in uncomfortably short time frames.
And speaking of comfort zones, I strongly encourage all #KinkyScribble creators to tag their content so that readers can opt in or out with fully informed consent. I'm not perfect about this, but practice has been helping, and I'm committed to doing better in the future.
Kinky Scribble: What Happens Next
(Content includes: F/M/f, cunnilingus, face sitting, teasing, begging, PIV sex, growth/shrinking, consensual non-monogamy, insertion)
1657 words; 1.5 hours writing time, 20 minutes of editing in two rounds
Read the story
TEXT VERSION: Read the text version of the story behind the cut.
AUDIO VERSION: Please enjoy this free 15-minute author-read audio file.