I am immensely proud of this story. I began it in early April as a Kinky Scribble and have worked on it for the last three months as a form of both escapism and conversely, as a way to learn more about myself. It helped me to explore my sexuality. What do I find erotic? Why? What does that say about me? Leaning into those questions has taken me on a ride this year. It's been healing and exciting, and really, really kinky.
"Woman, in Ecstasy" follows the story of a woman on a date with her boyfriend at a museum of sex. He convinces her to volunteer as part of a kinky art installation, where she grows, shrinks, and becomes a horny slut at the mercy of strangers—one of whom has eyes on her boyfriend.
I'll be unveiling this story in five chapters, each one lewder than the last. I'm proud to be able to offer author-read audio for each installment. This is a way to ensure increased accessibility for members of the kink community who use screen readers, and adds some extra sexiness for my fellow audiophiles.
Scroll to the story content section if you want to jump right to the story.
Artwork & shout-outs
I'm thrilled and deeply grateful to @pseudo_size for creating this GORGEOUS and sexy render art of one of my favorite moments in the story.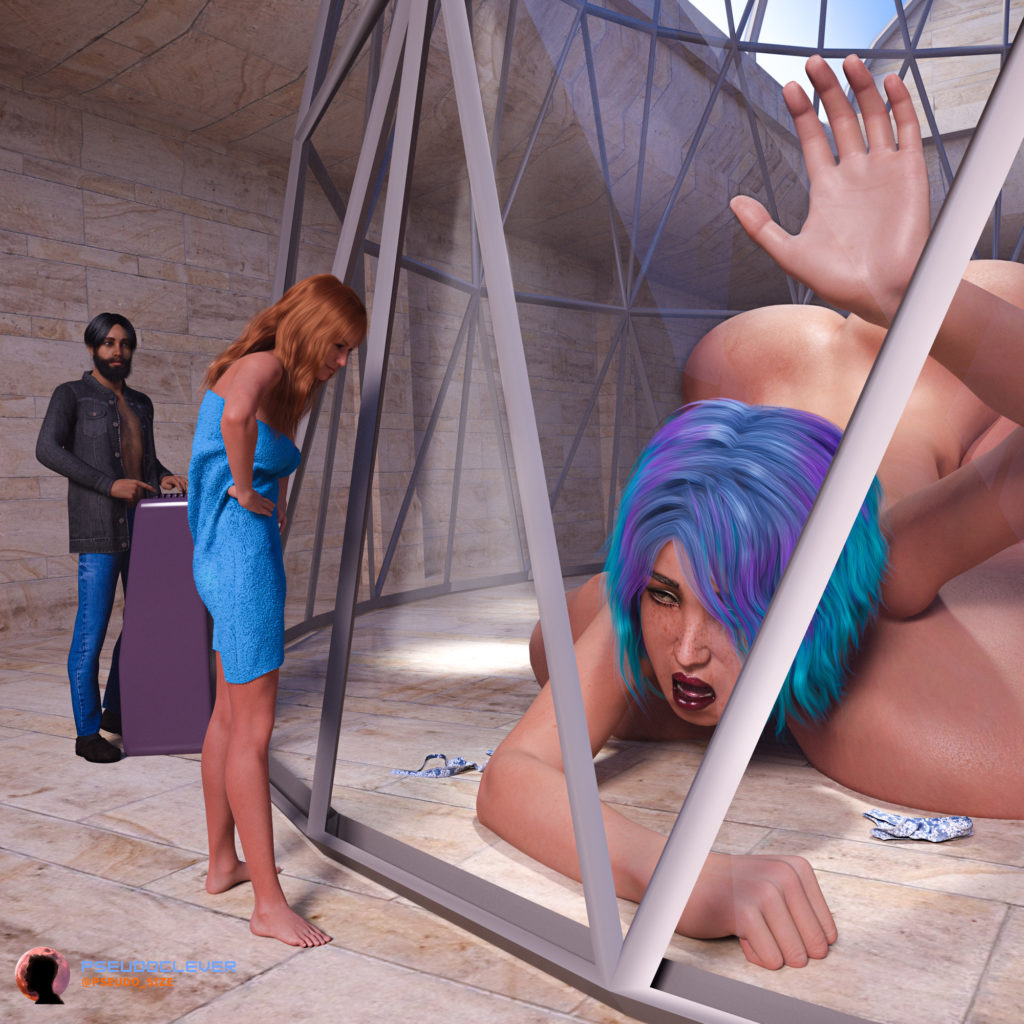 It's no exaggeration to say that this story would not be what it is without pseudo and his help. His skill and empathy in beta reading, his insight into character development, story arcs, strengths and vulnerabilities, all of it helped me tell the story I was trying to tell.
Please go check out his art and writing, including a new story he's sharing for Pride Month, Holding Space. It's one of the sexiest stories I've ever read in the size kink community.
Story inspirations
Inspiration for this story comes partly from a place that's been on my bucket list for years, The Vagina Museum. It's hardly the only museum of sex, but it is the world's first bricks-and-mortar museum "dedicated to the gynaecological anatomy." They have a snarky, outrageous, and fascinating Twitter account. They have a podcast covering topics like "Muff Busters: Vagina Myths." Their gift shop is full of awesome vagina and vulva stuff, from bags and flags to art prints, jewelry and menstrual products. They're doing vital, groundbreaking work, and they're doing it for free because they believe in access for all to this kind of education. They nearly went under during the start of the pandemic due to some patriarchal, sex-shaming bullshit, so please consider supporting them if you're able. (And if you want to buy my polycule and me a plane ticket to the UK to cross this off my bucket list, here's my PayPal!)
The Vagina Museum first introduced me to the particular piece of shunga art mentioned in this story. Yes, in 1827 one of Japan's most successful ukiyo-e woodblock artists, Utagawa Kunisada, really did create a work of erotic art where a giant vagina blasts sunshine at two tiny people. And if you're into hypercocks, "genital exaggeration" is a common feature of shunga. You're welcome.
All of the more fucked-up representations of nonprofit culture depicted in this story were inspired by my own experience in the nonprofit world here in Texas, where people who care a lot about good causes find themselves doing more and more desperate things for basic survival during the throes of late-stage capitalism. If you care about nonprofit work, I'd encourage you to follow Vu Le of Nonprofit AF, who is leading the charge against crappy funding practices with snarky, honest responses to philanthropists and salary disclosure with a side of sarcastic unicorns. My point is that nonprofits are desperate, now more than ever, and systemic inequities are causing people and orgs to become versions of themselves they cannot hope to sustain. All of which is to say, I'm certain that the badass folks at the Vagina Museum would never keep an exhibit like the one I fantasized about. But if they ever did, and if they were ever taking volunteers… you know, just for a day…
Support the author
Money is tight right now. I have twelve works of fiction in progress, ranging from wholesome to kinky as fuck. I'd like to continue releasing them here for free.
If you enjoy this story and want to see/hear more like it, the best way to do that is to support me financially. (The second best way is to boost the signal on my stories and encourage your friends to support me, too.) Thanks, y'all!
Story content
Tagging is the only way I know for people online to be able to opt in or out of a sexual experience with fully informed consent. I welcome help in tagging—please let me know if I have missed anything important.
Tags for the story overall will include:
F/m/f, f/M/F, f/F – (shrinking, growth, public play, exhibitionism, breast & ass expansion, humiliation, objectification, dubcon/noncon, mind control, intelligence play/bimbofication, hypnosis, begging, orgasm denial, jealousy, cuckolding, BDSM, voyeurism, masturbation, entrapment, claustrophobia mention, licking, sucking on fingers and feet, kisses, insertion, cunnilingus, penetration, and "bigger on the inside" magic for fucking tinies.)
Tags for this chapter in particular include:
F/m/f – (shrinking, growth, public play, exhibitionism, breast & ass expansion, objectification, dubcon/noncon, mind control, intelligence play/bimbofication, orgasm denial, BDSM, entrapment, claustrophobia mention)
Read the story
AUDIO VERSION: Listen to a 21-minute author-read version of the story here.
TEXT VERSION: Read the text version of the story behind the cut.